Dennik N is an independent daily newspaper based in Bratislava, Slovakia, with a focus on long-term quality journalism. It was founded by former reporters of the biggest Slovak broadsheet daily after it was acquired by a local oligarch. Now most of its revenue comes from online subscriptions.
Our cooperation with Dennik N started in 2020, when we became an integration partner of their own open-source subscription tool, REMP (Reader's Engagement and Monetization Platform).
In February 2021 they put their trust in FatChilli with another project, redesigning their digital product MNT.sk, for which they needed a reliable technological partner.
To lock or not to lock the content
Dennik N made the decision to put all their content behind a paywall from the very beginning of the title in 2015. Even though it might sound a risky idea, their confidence in their supporters paid off and in a very short time they had thousands of paying subscribers.
They were also thinking of what to offer the readers who were not yet subscribers, how to make them visit the website and potentially convert them into subscribers.
In addition to the full articles which were locked, they offered a free and unlocked service on their homepage, a list of short news and updates on current events called "Minute after minute". Here the idea was to create consistent and meaningful short news, which enabled readers to learn everything they needed about the current events in one place, without having to read the full articles behind the paywall.
The editors wanted to do better than just copying agency news or advertising headlines. Instead they provided short but valuable content and got their readers used to coming back to their homepage for updated information.
The ability to choose between minimalist free news and locked full articles eventually led to increased interest for more in-depth information and that increased the number of subscribers.
Soon there were hundreds of short news weekly, so there was a need to archive them on a separate URL and also to categorize them into topics. So Dennik N created a new page, "MNT.sk".
What is MNT.sk?
MNT.sk now serves as N's service for quick and short news, distributed to readers through different platforms - Dennik N's homepage, a stand-alone page MNT.sk, a mobile app, push notifications or newsletters.
The stand-alone page MNT.sk has an important role, it is the web home of the service, but it is not the most important distribution platform in terms of usability. That is the widget on Dennik N's homepage. In terms of user engagement, most important is the mobile app, which is currently one of the most used news apps among Slovak readers.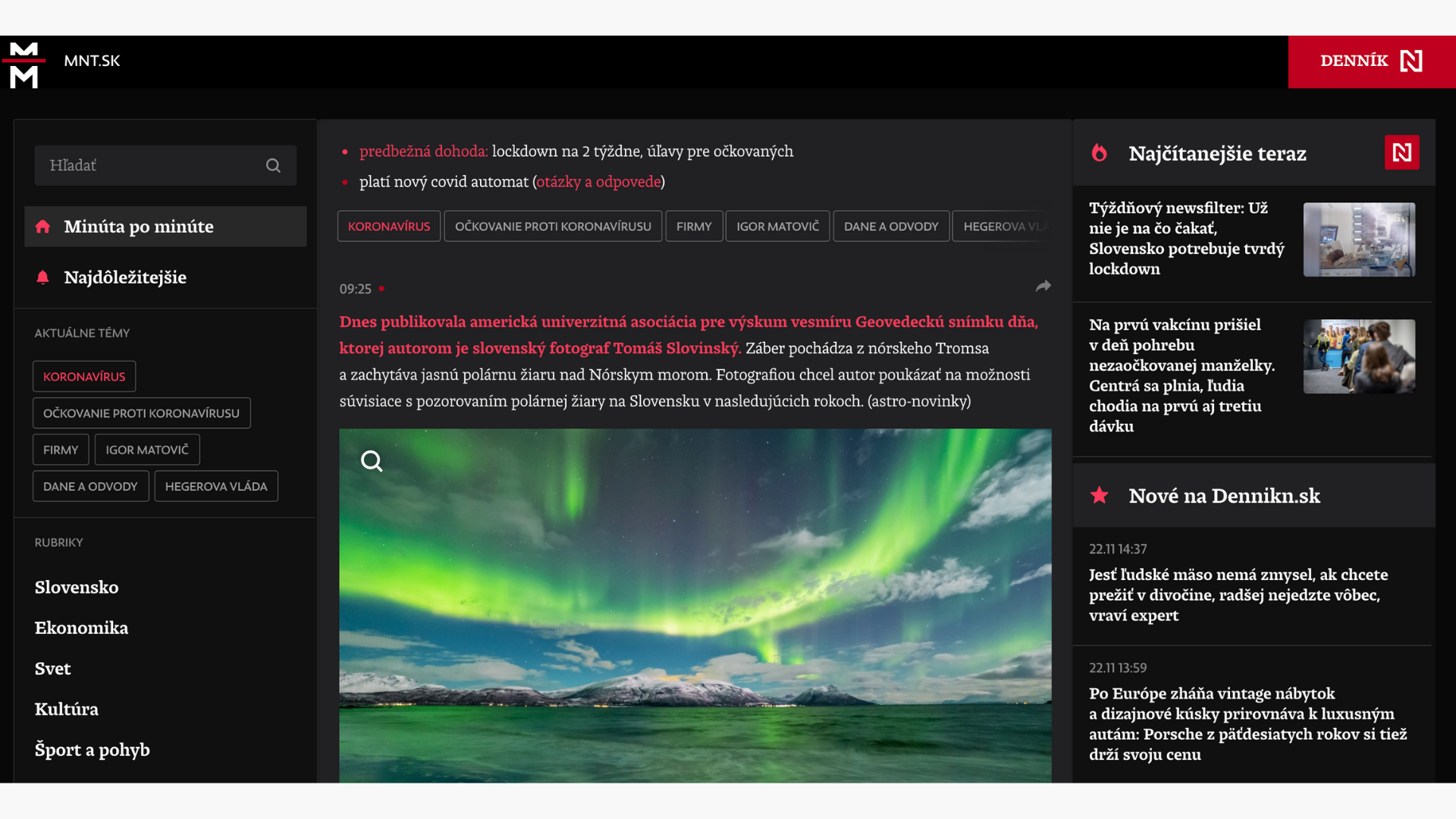 This is what mnt.sk looks like on desktop in dark mode
Why is MNT.sk a good idea?
MNT.sk was considered to be an entry-level digital product of Dennik N to convert more readers into paying subscribers, as it shows links to the entire articles (which are behind a paywall). MNT.sk is filled not only with N's exclusive content, but also offers links to the content of other media outlets - both Slovak and International. Back in 2015 when they started this was not common among media outlets and it is still considered a no-go in some countries.
The strategy behind the idea was that once the readers learned to use MNT.sk as their primary source of all news, they would form a habit and be more likely to buy subscriptions and read the whole articles.
Secondly, the role of MNT.sk is to be a platform for the N's content promotion without any specific marketing efforts. It should motivate readers to install the app, share the news and read the full articles.
MNT.sk is now a very popular service with which tens of thousands of users are engaged for a relatively high daily time. It is confidently one of the best digital products among Slovak media outlets and also serves as an inspiration to other media outlets in thinking about short news in a different way.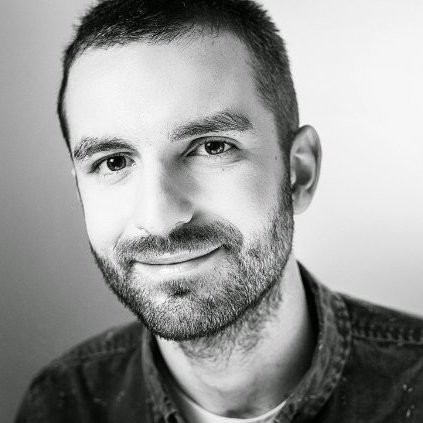 RADO AUGUSTIN
Online Product Manager of Dennik N
"Feel free to get inspired by what others do, but copying may not always work. Build on your own strengths and you will see the results."
Project: The redesign of MNT.sk
Dennik N had been planning the redesign of MNT.sk internally for several months.
The first input for the redesign was the need to integrate a live blog feature, i.e. quick live-streaming blogs from current events (hundreds of short updates related to the same event). As mentioned above, MNT.sk was used on several different platforms, which made this task really complicated.
Moreover, the MNT.sk solution was designed in 2015, the widget on the home page in 2018, and the apps in 2015 - they even had a different design. MNT.sk has changed over the years and the solutions were becoming more difficult to maintain, so with the integration of the new feature it made sense to unify the design across all platforms. Last but not least, based on the constant feedback from users, there was space for improving the user experience, too.
The role of FatChilli as a technological partner
FatChilli was asked to step into the redesign process and help to implement technology to make the maintenance of the service easier across all platforms. We offered effective and functional tech solutions to improve how readers interact with MNT.sk, how much time they spend on the page and on a single news report and to ensure the changes would not have any negative impact on the conversions or any metrics.
Duration of the project:
March-October 2021
Roles participating in the project:
Dennik N: editors, project lead, internal and external programmers
FatChilli: project manager, front-end developer, full-stack JavaScript|REACT developer
Project goals:
Unify the design of MNT.sk service across all platforms
Make its maintenance easier
Improve user experience
Create a new section for live blogs
Project impact:
Simplification of the work processes and reduction of the time needed to post short news across different platforms
Improved Core Web Vitals
Increased reader engagement
Unified design of the service across all platforms
"Our primary goal was to make the changes in such a way that the readers would accept them without any complaints", says Rado Augustin, Online Product Manager at Denník N.
Changes in the UX
New button "read another XXX words".
This idea was first tested on Dennik E (the economic news section of Dennik N) with the result of a higher CTR. With this in mind the decision was taken to use the same feature for MNT.sk.
Dark mode
Tags and sections of the short news for easy categorization
A new section for online live blogs, which is completely separate from the main content.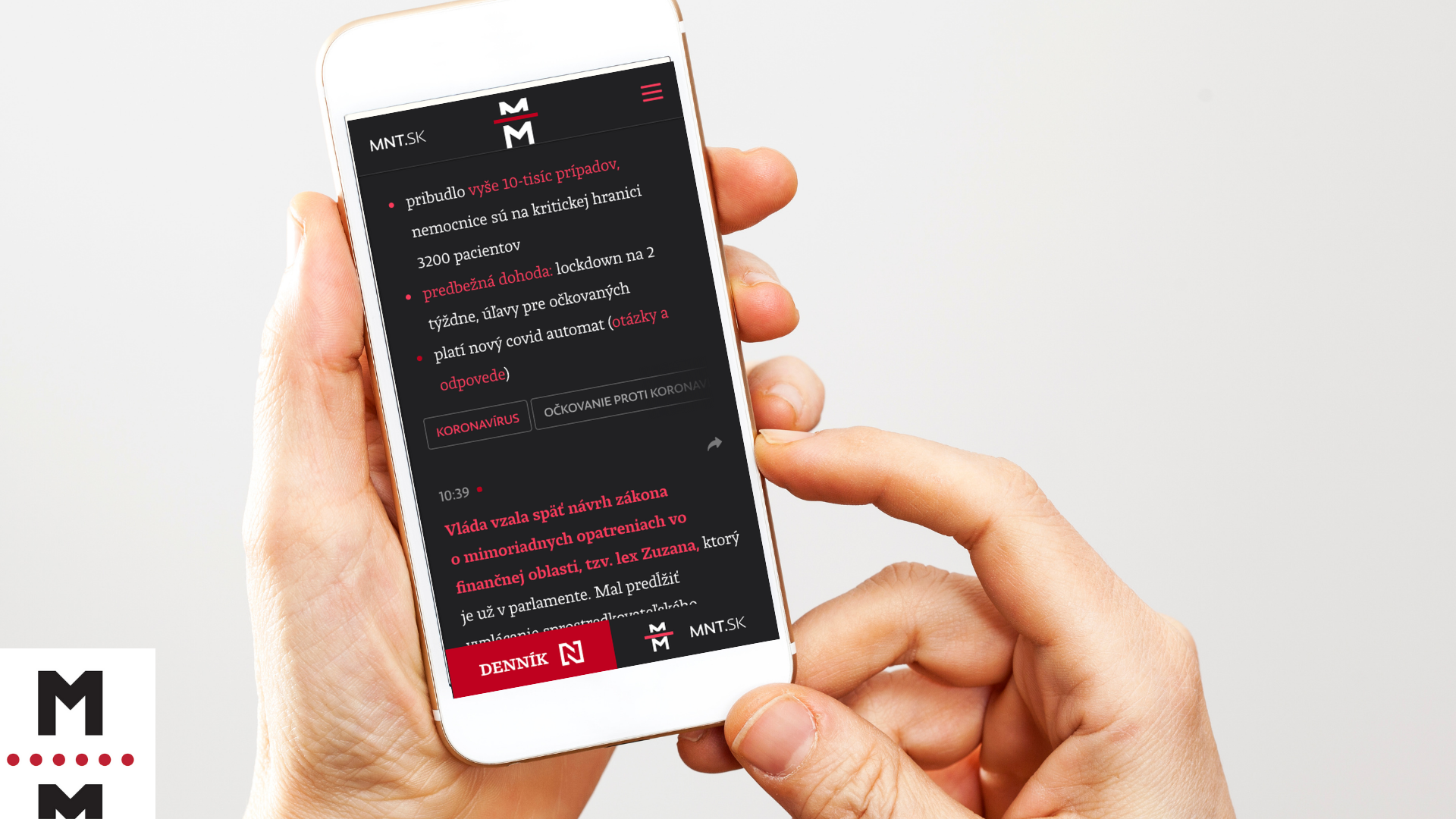 Increased page performance thanks to Progressive Web App
FatChilli used modern PWA methodology, which is a solution we would recommend to any publisher thinking of developing a mobile application. PWA is a website, which on a smart device looks and behaves like a mobile application. It combines the best properties of a web page and a mobile app. The main advantages achieved by PWA are the ability to read the news in the offline mode and increased Core Web Vitals (page loading, interactivity and visual stability).
Getting feedback from readers
When designing the above improvements, Dennik N engaged their readers and asked for their opinion. They posted different designs and polls in the private Facebook group for the paper's subscribers. This way readers felt more engaged because they participated in the redesign, plus they validated the suggested improvements. Moreover, the readers/paying subscribers have always considered Dennik N as "their media outlet". It mattered to them, so getting the relevant feedback was not a difficult task.
3 Key advice from Dennik N for creating a good digital product
Don't be afraid to experiment

From the very beginning of the MNT.sk service, Dennik N applied the approach of constant experimentation and fine-tuning. The strategy was formed "on the go" and responded to the changing needs of both the editors and readers. When it comes to the functionality of the app, many times done is better than perfect. Dennik N released it "half-ready" and fine-tuned it according to the feedback.

The writing skills of the editors are crucial

Even though the product might look simple to start with, one should realize that MNT.sk is highly content-oriented. The success of the service depends more on the content itself than on the technology used. Even if you take, copy and paste the whole solution to another newsroom, you might not increase your conversion numbers without having quality editors working intuitively and mastering their content skills.

Work with a reliable technological partner

Having a skilled and reliable technological partner, who knows what to do and suggests reasonable improvements, makes the whole project easier. "We gave FatChilli an assignment and already in a month we received a web page design, which looked ready to launch. We didn't have a specific deadline, therefore this output was received more than positively", said Rado Augustin.